Introduction
Probably if you looked into no-code development, you met with various tool options. There is a high chance that during your research you met with Bubble.io. The platform provides fast and cheap solutions for developing digital products without code. We are here to introduce the opportunities that Bubble can offer.
We in Zerocoder choose Bubble because it helps us to bring to life the most complex projects! It's our way to go, and below we answered the most common questions about the platform, so you could decide whether Bubble fits you :)
Imagine that you want to start an online business. You need to build an online web platform. What do you do? In the past, you could either develop it by writing a code yourself or hiring someone who would do it for you. 1st option is super time-consuming, when the other one can be too expensive. Now times have changed and you have a third option - no-code constructors.
Bubble is one of them. It provides a solution for people without any coding skills - that they can build their own software and app on intuitive level, with the help of platform tools. Bubble focuses on digital products development that have a responsive interface, large databases, and wide range of functionality. The main idea of Bubble: it's not necessary to know a programming language to talk with your computer. Now you can speak with the same words and understand each other.
The main Bubble difference from other no-code platforms is doesn't have fixed frames. In other words, you are free to build your project the way you like and customise to your needs. It is the same as with the traditional programming language - open-ended design, without limitations. Other no-code constructors often suggest a limited range for designing a specific product. With Bubble you can go beyond the frames.
How does it work?
1st step: you design your project and see what your future interface will look like. Here you can drag and drop elements, change their size, adjust them the way you want. Here you turn your vision into a real design.
2nd step: you assign a step-by-step action guideline for the software. For example, what happens after a user clicked the "menu" button.
3rd step: you create relational architecture for your project.
4ft step: you connect all plugins that your software will work with.
Then, you can see the demo version of your app or software - how it will look after publishing. Adjust and edit as much as you want, check the preview, and you can publish. Congrats, you are awesome!
But is there actually no-code at all? Only constructor tools and that's it? No, and that's the beauty of Bubble. You don't write any code by yourself. The platform translates your setup into code, so a browser can read and understand your software. All of it it happens behind the scenes, without your intervention.
Additionally, Bubble does all the dirty work. It updates code bases, optimises performance, and runs lots of security measures. Without this platform, you would need to do everything by yourself, and now there is no need for it.
What features Bubble has?
Bubble provides features for designing, developing, launching, and hosting a web product. Besides classic tools, the platform has the following features that you can include to your product:
Accepting payments
Forms and surveys (with the result analysis)
User accounts creation (possibility to sign up and login)
API integrations
Notifications of various types
App analytics
Tools for visualising data like charts, graphs, tables, etc.
Integrations with AI
Additionally, you can integrate your own code or a part of it to your project. You can do it when Bubble doesn't have support for needed functionalities.
Problem 2: Inconsistent productivity and developer's inefficiency
It is a common situation when the developers need an answer from a client to solve a certain problem – right here, right now. Sometimes clients do not answer straight away. Such several-day delays slow down the working processes and can significantly decrease the developers' productivity.
Subscription model solves this problem: when the communication delay happens, the developer switches to another project to help his colleagues and works on it until he receives the response for the main project. In this way the developer's productivity level stays high, developers work on multiple products at the same time, and projects are finished even faster.
The strategy allows developers to work with a higher efficiency rate on projects. Using this attitude, we managed to reduce The Average Development Time by 35%.
What apps are great for development on Bubble?
Marketplaces
Sales tools
Landings
Productivity tools
Booking apps
Community sites
Community and niche sites…
… and others! Bubble suggests templates that can simplify development a lot. With ready-to-go suggestions you will have your project done in no-time.
What apps are not great?
Bubble can offer a big variety of functionalities but it won't fit everyone. Here is the list of cases when Bubble will not be a solution for you:
Web products with complex regulations like apps for banks, tax services, etc.
Web products that need to work and operate without connection to the Internet
Web products with custom visual technology like video editors or machine learning algorithms
What's the price?
Bubble has several plans that you can choose. Yet, even if Bubble is much cheaper than other no-code platforms, be ready to pay for extra features.
You can try Bubble for free and test the platform. You should know that with a free plan you will not have an access to the advanced tools. Then comes the next plan with the price of $25/$29 per month. It fits someone who uses Bubble for personal usage and needs a lower app capacity. The professional plan costs $115/$129 and the production one - is $475/$529.
Is it safe to use Bubble?
Yes. Bubble uses RDS AES-256 encryption to secure your data and keep the information safe. Besides encryption, Bubble is built on Amazon Web Services. It means that the platform is compliant with certifications such as SOC 2, CSA, ISO 27001, and more.
How about the APIs? Can Bubble integrate with them?
Yes, it can. Bubble connects with other external platforms that include an API. For example, source of data, payments, authentication providers, etc. The platform has an API catalogue that allow you to connect easily a needed service.
Also, project possibilities expand by inserting extra plugins. You can add elements written in Javascript or create your own plugging for connecting with non-supported services.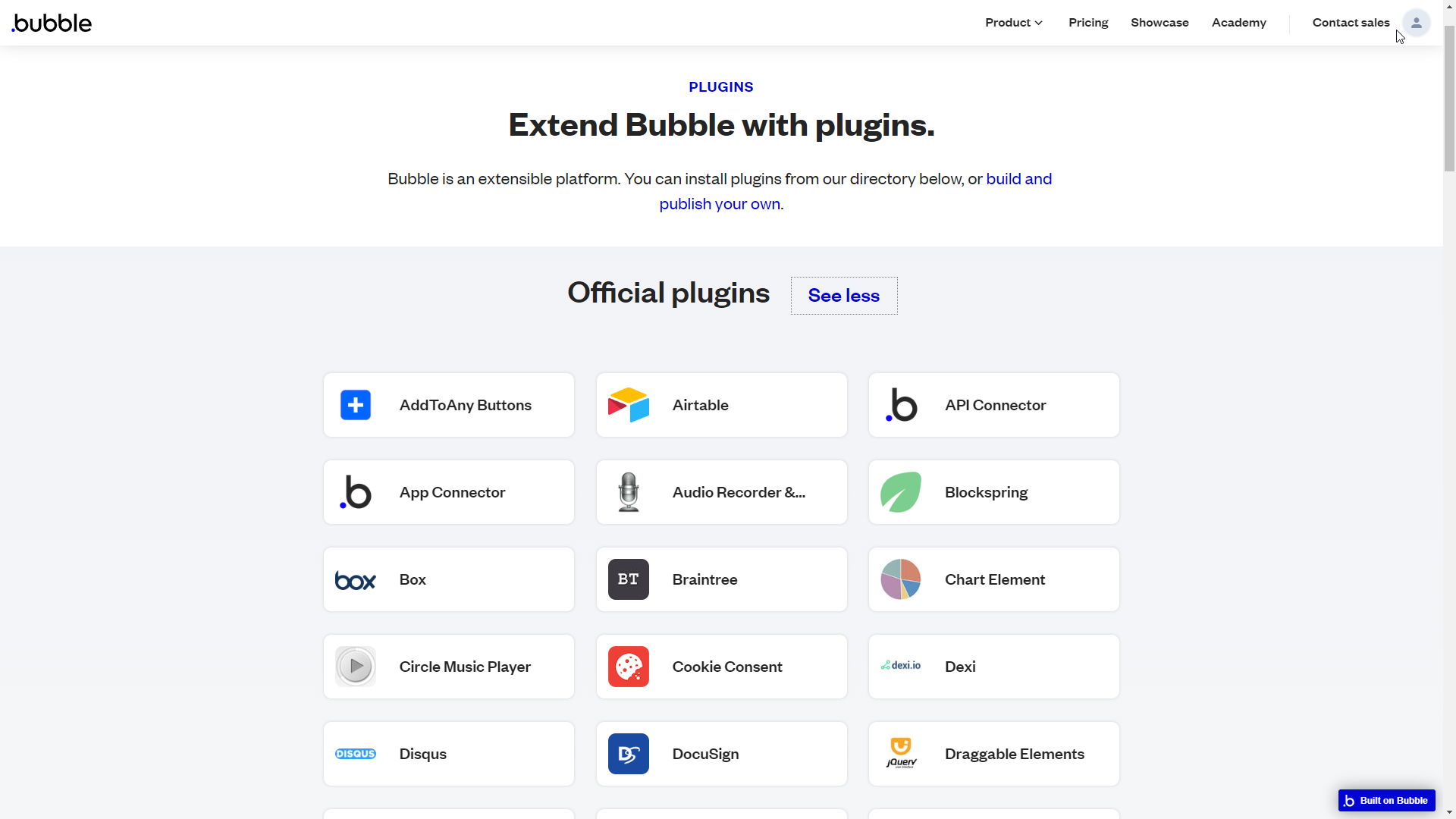 Does Bubble have large capacity?
With Bubble you can run your app with 100k users per day. That is more than enough for the majority of platforms, except for the largest market players. It means that you can run your digital product without any extra support for a long time. Note that larger app activity requires robust optimisation. If your app exceeds that number of daily users, your team will need to embed a supplemental code for more control over the app processes.
Additionally, you can use Bubble as a starting point if you know that you'd need a huge product capacity. With Bubble you create a Minimum Viable Product (MVP) and start to earn money. Afterwards, you can transition to the full-code version of your app meanwhile getting profit from your MVP.
Are there any templates? Or plugins?
Yes, there are both. The templates have various categories, so you can choose depending on your needs. Bubble has filters for easier template search. Additionally, there are templates with a price and ones free of charge. Same story with plugins. You can connect external services within one Bubble ecosystem.
Same story with plugins. Full catalogue of payment services, messengers, other apps that can be connected to your digital product. You can connect external services within one Bubble ecosystem.
Are you ready to develop but need some help?
If you don't have time to figure out all web development nuances, Zerocoder is here for you. We are the agency that will help you to build a custom-made, functional app within no time! We will take all development tasks, meanwhile you do business.
Contact us to discuss your project.